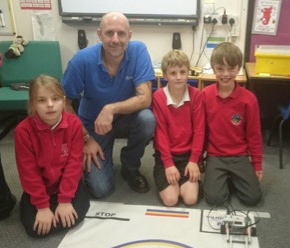 For several years, the TT Electronics-IMS team in Fairford has provided support for STEMworks, an initiative that works with schools, businesses, and other organisations promoting STEM skills (Science, Technology, Engineering and Maths).
Last month one of our skilled technicians, Alun Roberts added some valuable manufacturing experience to a "Build and Program Robots" workshop at Northleach Primary School in Gloucestershire.
The students had an introduction on the role of computer control in modern society and the range of uses in both domestic and business environments, with a short presentation about IMS Fairford and how computers are an integral part of the electronics industry.
Using LEGO Mindstorms kits, the students then with guidance from Alun and the STEMworks team, built a robotic vehicle and learned how to program the robot to perform a series of increasingly difficult challenges. A few lucky students will get the chance to visit IMS Fairford and see the engineering skills they've learnt in practice.
TT Electronics-IMS is passionate about helping the local community and are committed to promoting and inspiring future generations of engineers.