Thanks to the growing demand to connect automation systems to the Industrial IoT (IIoT), HMI software solutions have exploded in recent years. As a result, it enabled IoT connectivity in a variety of ways in many industries.
We've also seen the push to make HMIs easier to use too, and since HMIs were designed for that exact purpose- to make complex industrial processes more actionable and legible- it only makes sense.
The digital revolution in manufacturing has produced new ways to connect, monitor, and interact alongside these industrial processes, to make them more efficient. This push for efficiency to enhance industrial and manufacturing processes is now commonly referred to as IIoT.
Thanks to these advancements, the question now is: What does Industrial IoT mean for HMI designs' future?
As an innovative product solutions provider, our goal is to stay on top of the cutting-edge advancements in the electronics manufacturing industry, so we wanted to develop this article to discuss the above question.
With 30 years of design and manufacturing expertise in HMI, TT Electronics specialises in providing HMI solutions and technologies for major OEMs in the transportation, aircraft interiors, medical and heavy industrial sectors.
Are you ready to learn more about how Industrial IoT is impacting HMI designs?
This article discusses the different types of IoT used in HMI designs, how HMI is impacting IIoT, benefits of HMI, how designing and manufacturing home devices based on HMI solutions is improving users' daily lives, and more!
3 Different Types of HMI Used in IoT Designs
HMI makes up some of the most quickly enhancing technology within the IoT bubble.
Countless examples like fitness watches that measure your heart rate, screens that sense your approach and brighten automatically, and membrane keypads for medical equipment just scratch the surface. The technology has improved our lives and made massive strides in all industries, especially in the transportation, aerospace, medical and industrial sectors.
The majority of IoT applications require specific HMI capabilities. This is because a large number of connected devices factor in human interaction as a component. Where do the more complex systems fit within this complicated world of IoT? Let's dive into the three types of HMI to find out.
The three types of HMI that work within the IoT include:
Capacitive Touch
Gesture, Proximity and Ambient Lighting
Segment LCD
Capacitive Touch
Capacitive touch interfaces are known to be robust, immune to noise and can be used almost anywhere. Common examples of this technology include appliances, touch panels, and white goods (source).
Capacitive touch sensing technology is useful under glass and plastic as well as with buttons and sliders.
Gesture, Proximity and Ambient Lighting
This type of sensing is preferred in applications that rely on human gesture control and detection. Some common examples include medical and mobile computing products and IoT nodes.
Segment LCD
According to Silicon Labs, segment LCDs, also known as static displays or glass-only displays, offer benefits such as low power consumption, inexpensive and the best leakage characteristics of any LCD solution.
So, how does HMI technology factor into Industrial IoT?
How HMI is Impacting Industrial IoT
Like anything else that's tied into the world of technology, the description of what an HMI is and is capable of is constantly evolving.
Historically, industrial HMI has been paired to
"a proprietary control system that is responsible for delivering visual representations of the condition of a machine or multiple systems as part of a supervisory control and data acquisition (SCADA) system." [source]
It's worth mentioning that with the rapid development that's sweeping the industry, that proprietary control system is becoming more recognisable.
Developers are learning to leverage web-based technologies such as Javascript, CSS, and HTML5 to build customisable interfaces based on the "ultimate interface" in our world today-- an Internet browser. These new interfaces can extract information from intelligent devices, plus add context, which is a massive business value.
Like mentioned before, HMI software is evolving in form, characteristics, capabilities, expectations, and purpose.
According to Machine Design, the right smart HMI can provide a robust and capable platform that can connect field devices to a secure cloud, where most HMI data will live in the future in order to become more accessible.
Some key features of smart HMI include:
Can be embedded or PC-based
Open architectures that allow for various off-the-shelf software and hardware
Allow development of a single application to be deployed on many different platforms
Can connect to a wide variety of controllers and devices
Include built-in integration tools to allow for quick connections to networks and the Internet
No longer is HMI concerned with the interface; it's about the experience. As a data aggregator, it needs to be mobile and responsive to allow for location-based information to be consumed by many users in various formats.
Now that we're deep in the age of the Industrial IoT...
"HMI becomes a hub of information for anyone who wants to consume it, delivering new insights that will allow us to drive new ideas or processes or services from it," says Benson Hougland, VP of Marketing at Opto 22. "HMI is becoming a method of communicating data in a meaningful way."
Benefits of HMI in the World of IIoT
While Industrial automation is just one area where we're seeing the continued trend of demanding greater connectivity, efficiency, added-value integrated function, and cost-effectiveness, it's a prominent one.
Here are some benefits of exploring an HMI in your industrial automation system…
Connectivity
In our world, being connected is no longer an option. HMI's can be linked to the Internet to promote new forms of automation and modernisation. These systems can also connect to Programmable Logic Controllers (PLC), which are heavy-duty appliances explicitly designed for manufacturing and industrial purposes. (source)
Connectivity to these appliances allows for control between machines and humans. Furthermore, HMI can connect to a wide range of devices and machines in unison, which intensifies their ability to communicate with each other and adds functionality to their processes.
Data Analytics
HMI is widely known for its ability to present both critical and informational data actively, but it's also able to store and record the data. This, in turn, enables future analysis and interpretation, which can be incredibly useful for cases like appliance management, unforeseen issues, and energy usage.
Ease of Use
Thanks to the easy-to-use displays of HMIs, workers don't need to spend weeks or months training to operate the systems.
"In some cases, it has been concluded that there is a comforting feeling associated with the use of HMIs and it can create a positive work environment." (source)
Increased Productivity
While this may be a no brainer, it's clear that all the above benefits can result in increased productivity and efficiency of human resources because utilising an HMI can automate tasks that were previously carried out by a workforce dedicated to those same functions.
According to Microsoft, labour resources can be freed up, which enables workers to refocus their energy on other responsibilities.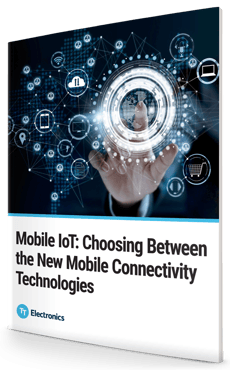 How Intelligent HMI Design Contributes to Better Smart Devices
There's been a developing interest in smart-home focused, AI-based solutions in the market. More home devices are utilising features like proximity sensing, capacitive touch, and other technologies that are solely built to learn, think and make decisions.
According to recent studies, the HMI market is on track to become an $11.8B space by 2026. A large amount of that success can be directly attributed to smart home technology. (source)
Thermostats, security systems, and other smart home devices are evolving to not only be smaller but to be smarter and more connected than their predecessors.
Some examples include...
Home security systems
Home security systems are taking the next step through AI-driven facial recognition technology that distinguishes between residents of the house, known guests, and intruders.
Smart Thermostats
Smart thermostats now allow users to program and control their home's temperatures from their phone. This function only scratches the surface because they do much more than control temperatures for comfort. In fact, they monitor energy consumption providing users control, peace of mind, and savings on their utility bills.
Voice Assistants
Voice assistants allow us to control everything within homes from thermostats, smart lights and locks to security systems, all without pressing a single button or touching one screen.
HMIs in smart homes are transforming the way we interact with these devices. They are helping transition this technology into our daily lives and allowing for remote monitoring capabilities.
Smart devices can credit the heavy lifting to their user interface (UI). It's a must-have for them to:
Showcase high-tech features - A must for smart home devices is a simple programming interface that incorporates touch sensors. (source) Thanks to the use of capacitive touch and intuitive icons, consumers can easily adjust temperature settings with a few quick swipes.

Be easy-to-use - Nowadays, people don't have the time to (or want to) break out a lengthy instruction manual. Smart devices must be simple to operate with little to no instruction. Thanks to intelligent visual communication, this can be accomplished intuitively, even with no text.

Support sleek and straightforward design - Simplicity and aesthetic go hand in hand as an expectation. The less obtrusive, the better as clunky won't cut it. In this instance, illuminated components enable a sleeker design with smaller footprints that, in turn, help support a modern look and lifestyle. (source)
Designing the HMI of smart devices requires more than fancy bells and whistles-- this is where intelligent UI design with HMI comes into play. Most importantly, when designing the HMI, consider the end-user first and every step of the way throughout the process, according to VCC.
According to Semantic Studios, here are seven attributes you can use as a guide to ensure your smart device has a high-quality user experience:
Useful - Do the device and its information fulfil a user's need?

Usable - Is the experience intuitive to the end-user?

Desirable - Does the interface invoke positive emotions? How do users feel when using the interface?

Findable - Is the interface easily navigable?

Accessible - Can various types of users operate the device?

Credible - Will users feel they can trust what you and your device are telling or providing them?

Valuable - Does it provide value via user experience?
Thoughtful HMI design emphasises with how, where, and when the operator will be using the smart device. It also accounts for the inevitable human error, which happens more than we think. It's here where seemingly small design decisions impact the user experience in a considerable way.
Conclusion
The future is here, and the digital revolution in manufacturing has created new ways to monitor, connect, and interact with industrial processes in the world of industrial IoT. It's only natural that human interface machines will help further these advancements.
HMIs have been and will continue to remain a critical part of manufacturing.
If you're looking to enhance your product interface with the latest backlighting and touch screen technologies, we specialise in HMI solutions for major OEMs in the transportation, aircraft interiors, medical and heavy industrial sectors.
Featured Image by jeferrb from Pixabay