Two often-repeated clichés are "change is part of life" and "change is good." However, for engineers ranging from product designers to quality-assurance specialists, it can also bring major headaches – and these are often unexpected and challenging ones.
After all, once a component is designed-in and the overall product is fully vetted, the last thing a vendor wants is to get reports of field failures. Finding the root cause is frustrating, time consuming, and costly with respect to both the hours and money spent – that's obvious. But what if the root cause is not a design or manufacturing flaw (such as improper mounting or adhesive curing) but a small, likely unnoticeable change in a supplied component?
Let's face it, cars have a long life these days; the average car on the road in the United States is eleven years old. Even though a car of that vintage is not expected to be free of failures (that would be nice!), a component problem can show up early, such as in the early-on three-to-five-year window, while a vehicle is still under warranty. Worse, some failures can lead to mandated recalls, even if the vehicle is out of warranty.
Given the inevitability of change along with the risks, the auto industry and its component suppliers have developed standards and procedures for assessing the impact of even minute changes to a component, by building on the initial design-in qualification standards (see previous blog "Ensuring reliability of passive components for automotive designs"). The AEC-Q200 qualification matrix for inductive products (magnetics), TABLE, shows the level of detail and thoroughness in evaluation that any change requires.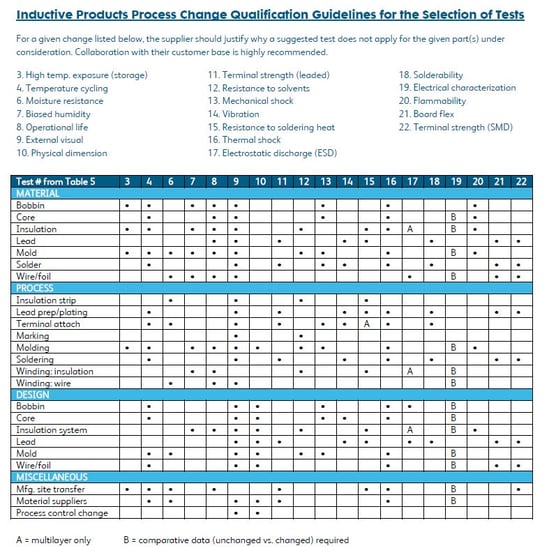 Even an apparently "trivial" change in the base materials, processing, fabrication, or test of a component can affect reliability, usually in unforeseen ways. These changes may be due to logistics issues, production changes, the drive to reduce costs, or even a customer's request for improvement in one or more performance specifications. Further, the industry-wide transition to lead-free components in recent years, driven by the RoHS and REACH directive, meant that many components with long histories and solid track records had to be requalified to AEC-Q200.
The AEC-Q200 standard defines where a "stress" test should be considered due to a change in materials, process, or design. Note the critical caveat at the top: "For a given change listed below, the supplier should justify why a suggested test does not apply for the given part(s) under consideration. Collaboration with their customer base is highly recommended."
Some automotive customers adhere to an alternative to the AEC approach, instead choosing the similar German-based ZVEI (Zentralverband Elektrotechnik- und Elektronikindustrie e.V.) standard. Their "Product/Process Change Notification Method in Automotive Electronics" provides a formal set of notification documents and forms as part of the Product and Process Changes Notifications (PCN) procedure.
Regardless of the reason for the change in a passive component, there are well-established, formal procedures for ensuring the impact is clearly understood and hopefully zero or minimal. As electronics increasingly permeate the design and functions of automobiles and vehicles, the need for passive components is also increasing at a dramatic rate.
Despite the wide use of custom and application-specific ICs (integrated circuits) and discrete active devices at the core of many of these vehicles functions, there is no substitute for what these passive components – resistors, capacitors, and magnetics – perform as part of a circuit's functions. That's why any changes in their design or fabrication is carefully assessed with respect to both basic performance specifications and also long-term reliability. As a result, the industry has established rigorous procedures to document and quantify the effects of even small changes to these less-glamorous yet vital components.
Download an AEC-Q200 qualified magnetic components product summary here, or visit here for further information.