Wearable technology is not new. It has a long history dating back as far as the 17th century with the Abacus ring. "Developed in the Qing Dynasty era, the ring once worked as a counting tool which allowed traders to perform calculations." A smart ring in its own right.
I think you'll agree when I say, since its inception, the market for wearable technology has grown immensely.
In fact ...
The global wearable healthcare/medical devices market is expected to reach USD 27.49 billion by 2026, according to a new report by Reports and Data.
However...
Advancements in wearable technologies invite new risks, including privacy and network concerns. So where does that leave medical wearables?
Are they becoming a significant Internet of Things (IoT) market segment?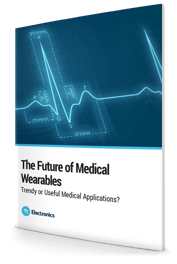 If you're looking for facts, trends, types of medical applications, advantages, and challenges within the medical wearables industry, then you'll appreciate this infographic.
The Future of Medical Wearables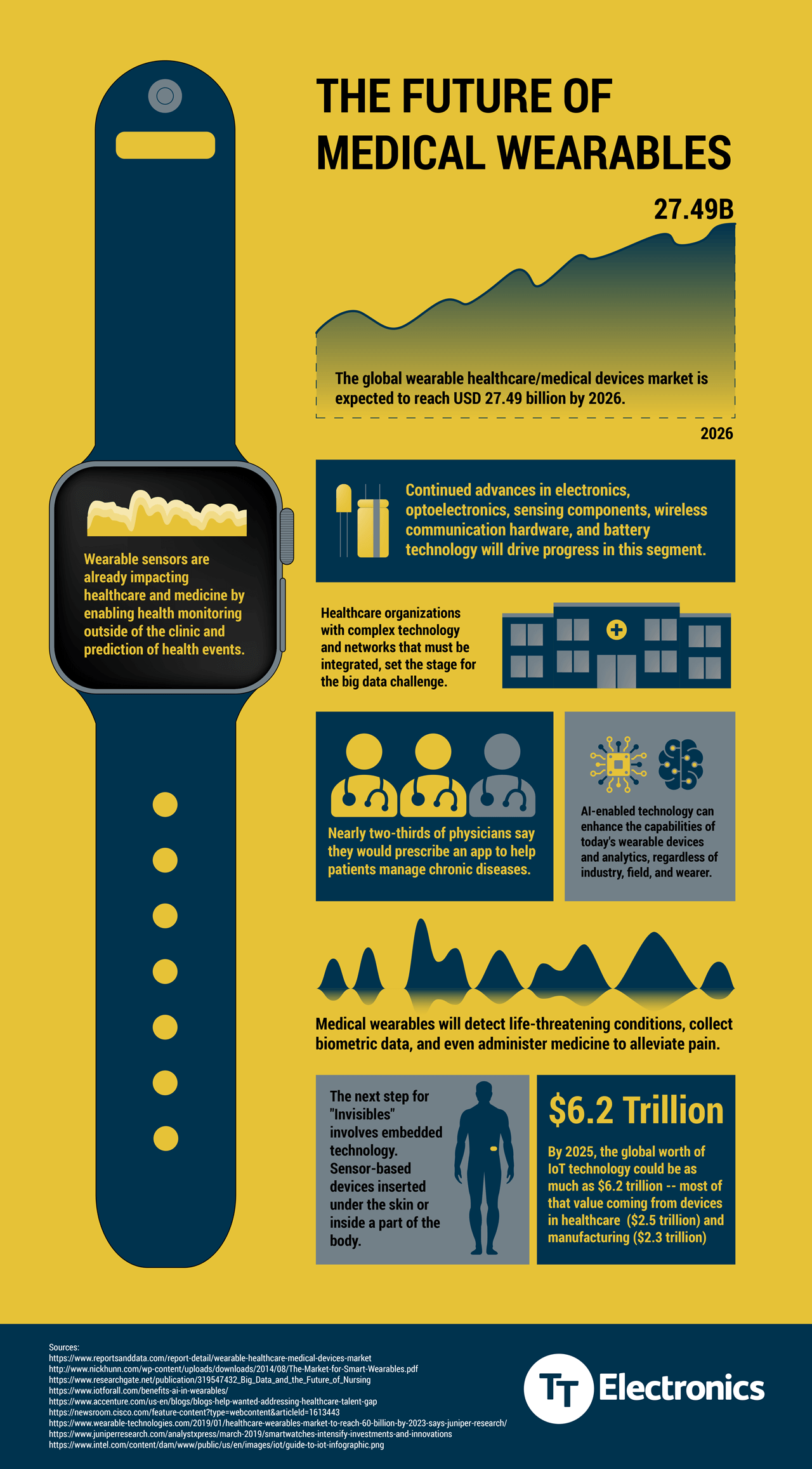 Like it? Share it:
Connected devices and wearable technologies are transforming the healthcare industry by enhancing patient care and impacting the efficiency and quality of care providers. The changing ecosystem will have significant impacts on the industry.
Here's our take on medical wearables from the infographic:
Part 1: Introduction / Stats
1. Wearable technology has commonalities. It must be:
Worn on the body

Controllable by the user

Enhance the user's experience
Today, wearable technology is more integrated with us than ever; it can either capture data, present data, or do both.
While we are most familiar with fitness trackers that we wear on the wrist (e.g. the Fitbit), wearable devices can range from smart rings, smart clothing, smart glasses (that measure vision performance) and smart ECGs (monitors heart activity).
Today, Sky Labs is developing a ring of their own. They are working on a ring-type Cardio Tracker, "CART", to detect and monitor atrial fibrillation, which is difficult to detect in hospitals. The number of patients with AF will double by 2050.
Most popular healthcare apps: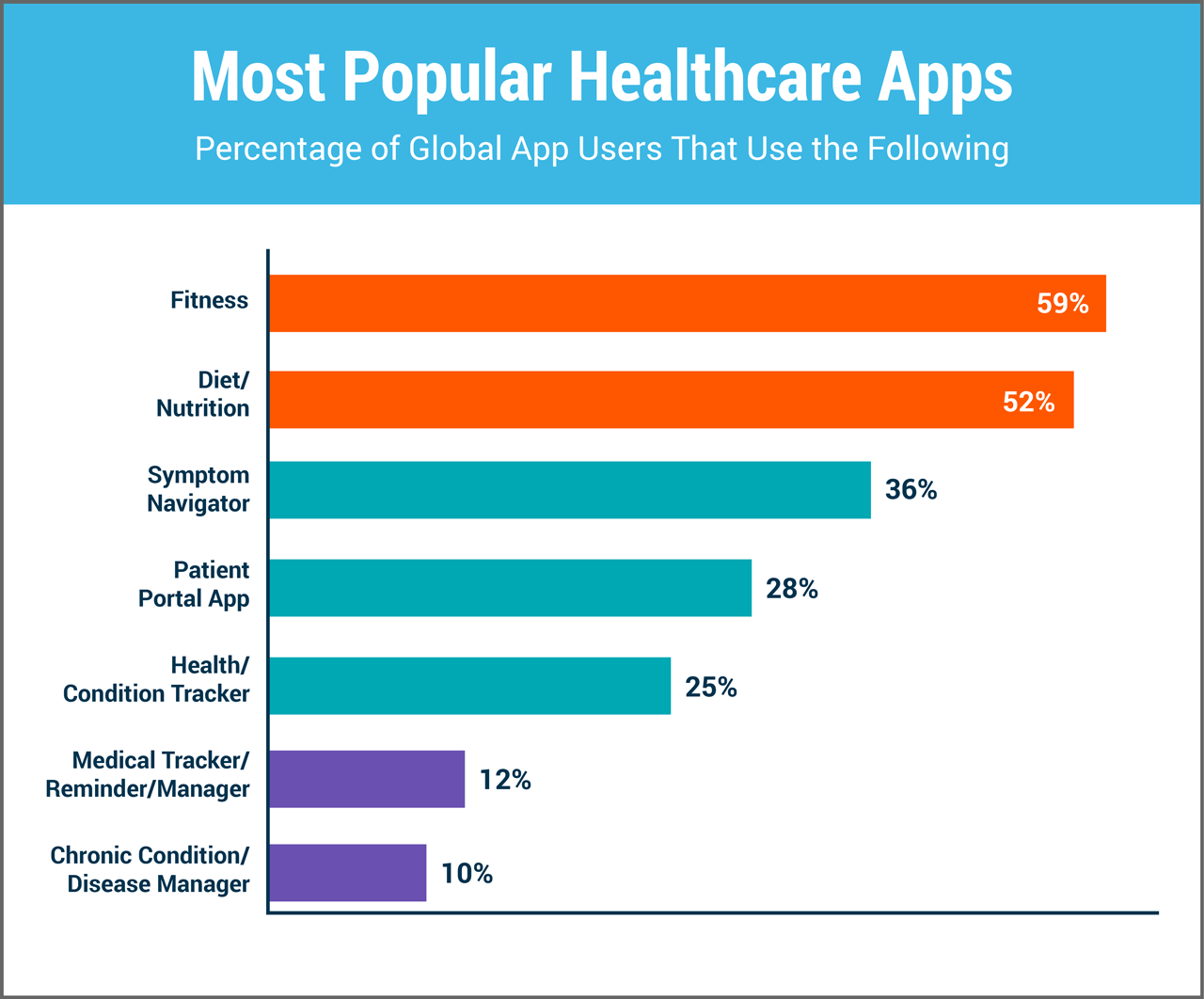 Source: Wearable Healthcare Tech
2. The global wearable healthcare/medical devices market is expected to reach USD 27.49 billion by 2026, according to a new report by Reports and Data.
The International Data Corporation (IDC) says the industry grew by a staggering 31.4% during the fourth quarter of 2018. [source]
Smart wearables can be worn on the body and have the ability to connect to the Internet, enabling data to be exchanged between a network and the device. The demand for wearable medical devices will continue to grow due to shifting consumer preferences towards a healthier lifestyle.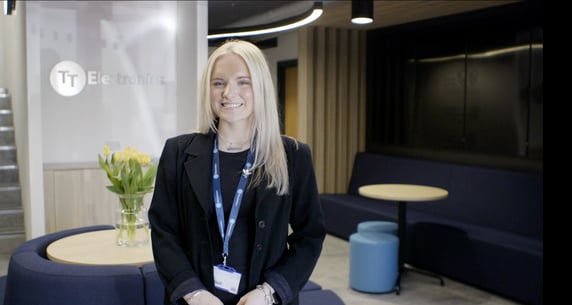 In a study conducted by the Centre for Creative and Social Technology at Goldsmiths, the University of London, more than 80% of consumers said an essential benefit of wearable technology is its potential to make healthcare more convenient. 71% of Americans and 63% of Brits believe that wearable technology has improved their health and fitness. [source]
The rise in wearables sales can be correlated with the overall improvement in quality.
Therapeutic wearables include respiratory therapy, rehabilitation, diabetes, and pain management devices such as insulin pumps or hearing aids.
Asia Pacific is estimated to grow with the highest CAGR of 32% from 2014 to 2024. The most prominent wearable medical device product that is predicted to remain as such until 2024 are insulin pumps, followed by pulse oximeters, blood pressure monitors, and glucometers. [source]
Part 2: Benefits
Increased adoption of smartphone-based application for healthcare monitoring by individuals as well as healthcare providers is the key factor driving demand.
Increasing incidence of diseases associated with heart, diabetes, obesity and hypertension is likely to increase the adoption of wearable in the coming years. [source]
3. Wearable sensors are already impacting healthcare and medicine by enabling health monitoring outside of the clinic and prediction of health events.
Health Benefits of Wearable Technology
Encourages proactive health

Keeps patients engaged
Performs many functions
Benefits healthcare providers and employers
Monitors vulnerable patients
Real-time data collection
Continuous monitoring
Predict and alert
Empowers patients
The expansion of the wearables market partly depends on the commercialization of patented electronic components, including miniaturized sensors, power supply units, and Bluetooth Low Energy communication networks.
4. "Continued advances in electronics, optoelectronics, sensing components, wireless communication hardware, and battery technology will drive progress in this segment."
Part 3: Challenges
of Incorporating Wearables into the Healthcare Environment
Despite numerous advantages, wearables come with a specific set of challenges.
A few being Big Data and Artificial Intelligence...
"Big Data" in the Wearable Market
What can these massive amounts of data do?
In terms of healthcare, it could range from improved electronic medical records to enhanced quality of life and better patient care and experience, to predicting specific epidemics.
However...
There is a challenge to process massive amounts of data (volume) from an integrated pool of multiple databases (variety) and ingest and return analytic computations at high speed (velocity) and with high precision (veracity). [source: The promise of big data: Improving patient safety]
Shifting to an integrated data environment is complicated.
5. "Working in healthcare organizations with complex information technology and networks with multiple clinical, financial, and claims systems that must be integrated, set the stage for the big data challenge." [source]
Along with Big Data comes:
Artificial Intelligence Obstacles in the Wearable Market
As noted, wearable devices are not a new phenomenon. However, with the addition of artificial intelligence (AI) (giving them substantial capabilities) comes fear.
6. Despite the benefits, the fear surrounding more intelligent solutions can often be a controversial topic. With AI comes the fear of job replacement, less human interaction, and data privacy.
CHT (Compliant Healthcare Technologies), provides technology solutions for medical gas, highlights a quick side-by-side comparison of the pros and cons of AI in healthcare.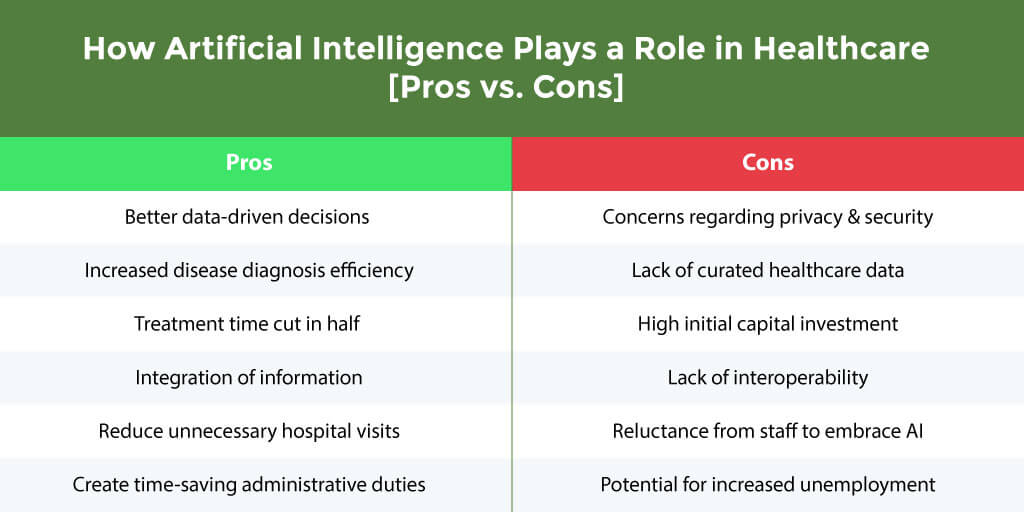 The debate over artificial intelligence in healthcare will always be present. Overall, the main goal is to develop AI safely and with a purpose for patients, physicians, and developers.
Bottom line...
Despite any setbacks,
7. AI-enabled technology can enhance the capabilities of today's wearable devices and analytics, regardless of industry, field, and wearer.
Read more on How AI Takes Wearables to the Next Level with examples that showcase its ability.
Part 4: The Future of Medical Wearables
Medical Applications vs. Consumer
Consumer fitness trackers help users stay in shape.
8. Medical wearables will detect life-threatening conditions, collect biometric data, and even administer medicine to alleviate pain.
Tech-enabled tools like biometric devices and wearables have already reached widespread adoption.
9. Nearly two-thirds of physicians now say they would prescribe an app to help patients manage chronic diseases. [source]
By 2030, Accenture research shows that up to 10% of existing patient-service demand will be met via self-care.
Resource:
Rise of Hidden Wearables
State of the art in wearable technology is not worn on the wrist. It's attached to the skin - or perhaps even embedded inside the body - while delivering data ranging from the wearer's heart rate to the frequency of tremors. [source]
10. The next step for "Invisibles" involves embedded technology.
That means sensor-based devices inserted under the skin or inside a part of the body—say, implanted into a patient's pulmonary artery.
Move Over Wearables, Make Way for Invisibles
11. As wearables become part of patients' treatment plans, OEMs will seek to adjust their business models and generate revenues from devices being monitored.
For example, selling data produced by the devices to insurance providers. Juniper forecasts that service revenues of this nature will reach $855 million by 2023. [source]
12. Trends are ranging from glucose monitoring to speech therapy, seizure detection, posture aid and sleep monitoring, with heart monitoring being smartwatches' most established health feature yet. [source]
For example, Abbott's revolutionary continuous glucose monitoring system allows people living with diabetes the freedom to monitor glucose levels without finger pricks or being tied to a bulky monitor.
"The system provides people living with diabetes with three critical pieces of data with each scan:
Real-time glucose result.
An 8-hour historical trend.
Also a trend arrow showing the direction their glucose is going."
Source: Freestyle Libre 14 Day, Now FDA Approved
The market is expected to more than double, leaving researchers scrambling to figure out how to coordinate and manage the massive amounts of data these devices will generate.
Listen to Nuria Oliver, lead researcher on Data Science at Vodafone, Chief Data Scientist at Data-Pop Alliance, and General Co-Chair of PervasiveHealth 2017 discuss goals:
EAI, "The Bright Future of Pervasive Health", YouTube, https://www.youtube.com/watch?time_continue=272&v=YwTvomK7fYs
"The shift in healthcare is moving from reactive healthcare to preventative healthcare.The exponential growth in the development of wearable devices and internet of things devices are enabling us to monitor ourselves in a 24-7 manner."
13. By 2025, the global worth of IoT technology could be as much as $6.2 trillion -- most of that value coming from devices in healthcare ($2.5 trillion) and manufacturing ($2.3 trillion)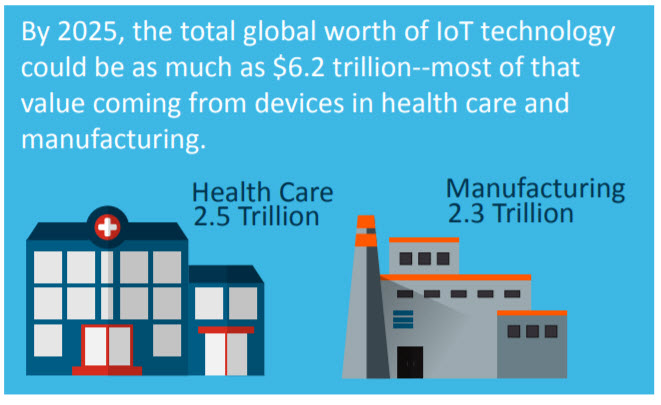 Most IoT smart devices aren't in your home or phone-- they are in factories, businesses and healthcare. Source: Where the Wireless Things are - and Why
In Summary
With the global wearable medical device market projected to reach $14.41 billion by 2022 from $6.2 billion in 2017, it's clear that the growth of wearables will be driven in large part by medical applications.
TT Electronics works with medical device firms worldwide, including start-up companies, providing a wide range of products and services for medical device technologies. TT Electronics leverages the power of new technologies to create products that improve lives.