Traditionally, the Space industry has required high-grade devices that offer exceptional electrical performance and have the potential for achieving reasonable total irradiated dose rates and mitigating the effects of heavy ion collision, causing premature single event burnouts.
These rare conditions can lead to overly expensive components being designed to meet not the mission-critical performance but instead the extremely complex Governmental governance.
This is where TT Electronics' New Space Electronics® plays a crucial role in delivering cost-effective screening using fully traceable and space-proven die with the goal to offer partners a solution that can meet their needs in the Space exploration and exploitation markets.
In this article, we will discuss various challenges posed by the New Space Age, how higher volume satellite constellations in low-earth orbit are driving a requirement for increasingly cost-effective components, and how our semiconductor capabilities align with our role as a solutions provider with proven space-grade heritage.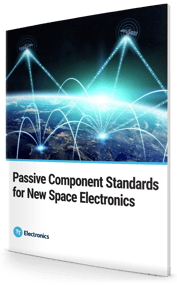 Recent Shift in Space Exploration Pushes New Semiconductor Choices in Systems
There are still some instances where deep space probes and long-term missions may need to use high-grade devices. In fact, one of TT Electronic's first missions of note was the Voyager, which launched on 5th September 1977. As of 2021, two Voyagers are still operating past the heliosphere's outer boundary in interstellar space. They both continue to collect and transmit to Earth valuable data.
However, the present-day needs of the Space Industry have changed. In the last 50 years, more and more commercial enterprises have entered the Space exploration and exploitation markets. These companies are much more aware of the financial cost of development and deployment.
These satellites are often vast constellations of up to 1,000 craft, which spend most of their time in low-earth orbit. Satellites in low-earth orbit have a lower, less significant risk of ionic burnout. Still, consideration must comply with both ISO 24113 and other Governmental restrictions and refrain from generating any additional space debris if launch licenses are to be granted.
Next, we will consider just the semiconductor choice in these new large systems.
First, it's important to work closely with a company that can offer a wide variety of components but, more importantly, has the pedigree within the Space industry and the knowledge of immerging market opportunities.
Secondly, it is crucial that the chosen company can offer solutions for the one-off platforms and the larger constellation.
Discrete transistors
The traditional Bipolar Junction Transistor (BJT) is well proven and has been used since the early 1960s. These well-known device types have been repackaged from through-hole to surface mount packaging. Typically, they have been purchased to JaNS (mil Prf 19 500), often with complete full radiation testing.
In the present market, are these technical requirements necessary?
In the payload area, very commercial devices have become the norm. However, for surveillance and compliance to ISO 24113, a better class of the component is required.
TT Electronics and several other notable companies have developed new test and screening regimes to assure the satellite operator that they will be able to either destroy the satellite or put it into a parking orbit at the end of its life. Typically LEO platforms have a life period of 3-8 years, while GEO orbit platforms generally live for 20-25 years.
Our screening flows, which we have named New Space 1 and New Space 2, include full traceability into the components right from raw materials to assembly equipment and operators.
However, we excluded some costly testing such as TID relying instead on the pedigree of the die (chips) being used.
Our logic behind that decision is that the operator knows the limitation of his or her equipment better than we do. Of course, we are happy to add additional tests to the basic flow to make it more suitable for your application.
Integration of MCAs, Hybrid, and Asics
Spacecraft, like all electronics, needs to get smaller, lighter, and more thermally efficient.
Hybrids have been cost-prohibitive for general GEO satellites due to the enormous NRE costs involved in setting up. They have only been used in prestigious or critical applications.
However, with a constellation of over 1,000 units, the costs can be amortised across the constellation, giving a cost-effective solution. This can be the case even more so if the manufacturer designs common building blocks used from system to system.
If you're not ready to commit to a full-blown Hybrid, then why not consider an MCA?
MCAs are based on standard co-fired ceramic packages. We have reconfigured these to take up to 12 devices. These can be either BJT, Jfets, Mosfets, or passive components.
If only active devices are being used, we can screen and qualify as transistors, i.e., ESA 5000. Simultaneously, if we include passive, we must evaluate each raw type of material and class as a hybrid.
TT Electronics believes in the future of Hi-Rel Hybrid technology. In fact, we have just taken delivery of a new Class cleanroom at our Bedlington plant. Our manufacturing facility at Lutterworth will close at the end of 2021 to be incorporated at the new facility.
We are currently commissioning the plant and installing the latest assembly and test equipment. Once the facility is completed in early 2022, we will have a world-class facility.
That said, no facility is good without its staff. TT Bedlington has many years of experience making Hi-Rel Hybrids. Our product portfolio includes all the FADECU for Rolls Royce engines and award-winning Hybrids for space applications for a USA company.
Our Hybrids start from basic building blocks. We design and manufacture our own thick and thin-film substrates. Components can include any semiconductor, including microprocessors and memory. Passives such as resistors can be incorporated within the substrate. Several thousand wire bonds can be included in the typical hybrid; these can be an aluminium wedge, gold ribbon, or gold ball bonding.
Asics are our newest technology to be incorporated in the Bedlington facility. We can manufacture/assemble the most critical units, and we have the latest Eagle multi-channel (256 Ch) to do complete functionality testing for both analogue, digital, or mixed technology.
Conclusion
While we have concentrated on TT Electronics' semiconductor capability here today, it is important to note that we need to offer more to be the partner of choice.
Our New Space Electronics® team is proud to offer a wide range of resistors, connectors, and sensors, which can be incorporated into subsystems. Furthermore, we also offer turn-key PCB or box assembly for companies who do not have their own assembly facility.
If you're interested in discussing how we can help tackle your new space challenge with fully traceable, innovative solutions, get in touch with our team today.