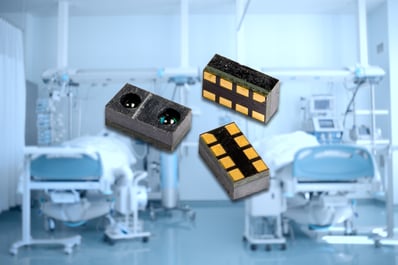 Walter Garcia Brooks, Field Applications Engineer, discusses the trend in medical equipment becoming more transportable.
Demand for portable medical equipment is increasing, as more people strive to manage their health in the comfort of their own home. The electronics industry is meeting this demand with innovative and highly integrated solutions that deliver more functionality in smaller packages.
Medical equipment needs to be robust and reliable under all operating conditions. Sensors internal to the medical devices may be operating under arduous environments which will put extra demand on the components selected.
Portability
Medical equipment is, in general, becoming more transportable. Devices used by trained medical professionals benefit from the same trends enjoyed by other sectors such as consumer electronics. A perfect example of portable medical equipment is a "wearable" injector, essentially a hands-free system designed for automated delivery of biotech drugs at home or in clinical settings.
Smart phones and tablets illustrate this perfectly and while medical equipment is much more complex than a tablet, the underlying electronics are similar. Reducing the footprint of medical devices, while integrating more 'smarts', means that home health care equipment is more affordable, more portable and more capable.
Connectivity, widely referred to as the 'Internet of Things' (IoT), is also helping medical professionals stay in touch with patients in their own homes, through equipment primarily designed to provide medical care. Monitoring long term conditions is now much easier for doctors and patients, without the need for physical presence, thanks to this level of connectivity.
Driving this level of portability is the continued integration of semiconductor ICs. More features can be combined in devices and smaller footprints for the semiconductor chips leads to smaller end products. While medical devices comprise much more than just semiconductors, the ability to reduce the size and power of the electronics is a major discriminator for medical OEMs to manufacture more compact and capable medical equipment.
The home health market will benefit directly from smaller and more portable medical products, allowing more patients to manage and monitor their condition from their own homes. With an ageing and growing population, it is widely anticipated that this kind of technology will play a vitally important role in the future.
Robustness
The medical industry imposes stringent regulations on suppliers; regulations that go beyond the usual commercial pressures present in all sectors. Not all manufacturers can meet these demands for robust, reliable components and still deliver more integration in smaller footprints.
A good example of one component that meets all these requirements is the Photologic V OPB9000 reflective optical sensor from TT Electronics. Designed for medical and industrial applications, this sensor delivers exceptional functionality in a surface-mount package measuring just 4.00mm x 2.2mm x 1.5mm.
Optical sensors can be used for a range of functions within medical equipment: detecting the presence or absence of media (such as cartridges), end of travel or range of motion detection, and monitoring the equipment itself.
In this respect the OPB9000 excels, with an unprecedented level of integration. Alongside the IR LED emitter and detector sits a complete analog front end and digital signal processing. With an ambient light immunity of 25klux, the device is able to work in conditions other optical sensors couldn't handle. This ambient light immunity is critical for medical devices that may need to operate in partial or full day light environments. Other feature differentiators for the OPB9000 include self-calibration, Automatic Gain Control, temperature compensation circuitry, and programmable contrast sensitivity.
With an industry-leading response time of 6μs and a standard serial interface, the OPB9000 reflective sensor ensures no latency in communication, easy integration onto the pcb board, and offers up to 80% reduction in circuit complexity over other implementations.
Conclusion
The trend towards smaller products isn't unique to the consumer market. The same technology innovations that enable smarter handheld devices are also enabling more portable medical equipment.
There is a real need for more portable medical equipment both in hospitals and in the home. These devices must be highly integrated and capable, able to be used by untrained people in often difficult conditions. Technology is leading the way in meeting this need, with innovations at every level.
Sensors and connectivity are now key elements in the IoT and with reliability being a primary requirement it is important to choose components and suppliers that are able to meet that requirement with innovative and highly integrated solutions.