Almost all products reach their natural end-of-life. One of the common reasons for this is a company or network develops a better solution or better version of the product or technology.
With 2G and 3G sunsets already in progress, businesses need to get ready for the next generation of Low Power Wide Area (LPWAN) Technologies.
As an IoT-enabler and solutions business, we design hardware with connectivity solutions ranging from low-frequency sensor networks to more sophisticated 5G-enabled networks. We tailor the right solution to meet your needs through final customisation, integration of other devices, connectivity, cloud services and user experience.
Connectivity is a crucial part of product design and performance, and the choice of connectivity technology must be considered early in the process.
Is your business using Internet of Things (IoT) - enabled applications?
If so, this article provides updates on the 2G and 3G networks sunsetting, insight into the new wireless technology coming and how OEMs need to prepare.
Sunsetting a Product/Technology: Knowing When to Phase Out
In a business context, sunsetting is intentionally phasing out or terminating a specific product or version of a product. In this case, a sunset happens when a technology provider terminates or begins phasing out one of its products or services, so that it is no longer supported.
There are metrics to determine if a product, feature, or technology is ready for discontinuation.
Here are a few metrics to consider:
Customer adoption - understanding that customers are key
Market impact - what is the effect of a change or removal?
Strategic implications - what is the rising need for improvement?
How important is it to the user?
Data on how many customers will be impacted

There are times we need to sunset an existing product or functionality to provide higher value in its place. This is the case in the evolution of mobile connectivity.
2G and 3G networks are being phased out, and new technologies that support LPWAN are starting to become globally available in the form of LTE-M and NB-IoT.
You can examine the potential benefits and explore the challenges involved in adopting this technology below.
Here's how LTE-M and NB-loT differ: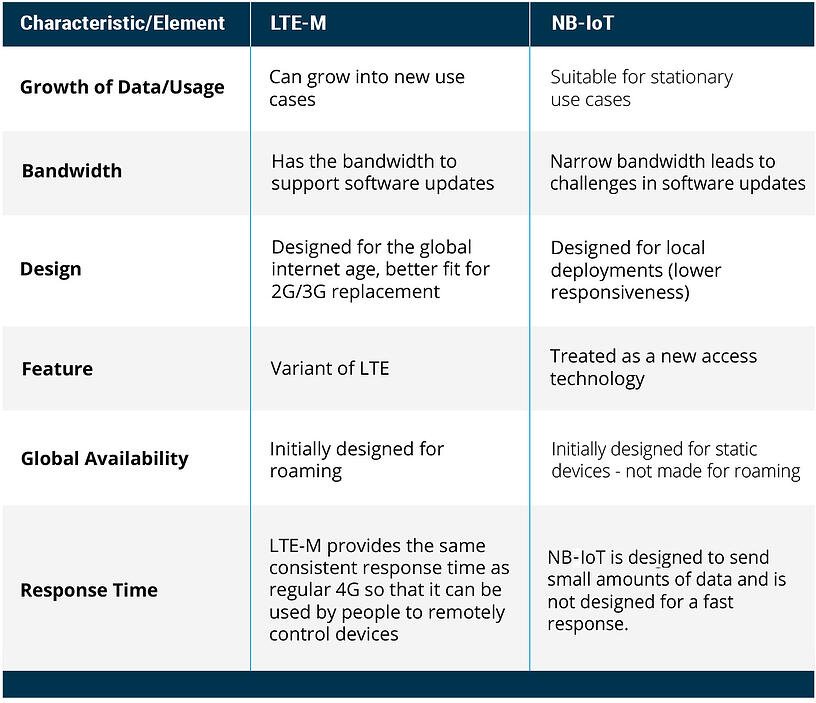 Read more: Mobile IoT: Choosing Between the New Mobile Connectivity Technologies.
Mobile loT has blended hardware and software with the internet to build a more technically-driven environment. LTE-M and NB-IoT are adapted to provide cost-effective and reliable connectivity with a long lifespan.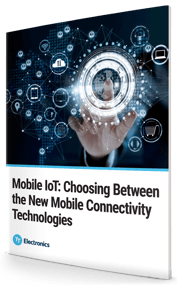 Bonus Content - Mobile IoT: Choosing Between the New Mobile Connectivity Technologies
Let me send you a copy so you can read it when it's convenient for you. Just let me know where to send it (takes 5 seconds):

Yes! Give me my PDF

What is Driving the LTE Evolution Today?
The LTE evolution is being driven by the carriers need for faster and more efficient networks to support future expansion as data demands continue to rise.
Customers want...
Better WiFi
More bandwidth with more responsive technology
Faster connections
Ability to manage all their IoT devices
LTE offers these wants with faster speeds and a better user experience.
However,
With the 2G/3G network sunset in progress, OEMs need to recognise an IoT strategy based on the newer technology. Or acknowledge a technology that supports the 2G/3G as a fall-back.
With the customers' new needs also brings the need for the correct migration from the older networks. The need for faster speed and capacity will begin with the correct performance options and a plan in place.
Because the shutdowns are underway, OEMs need to ensure their IoT data continues to flow and does not get compromised. Long-term transition plans and migration strategies are vital to take advantages of LTE, 4G, and 5G.
Outlook for 2G Sunsetting
All major North American Carriers will be phasing out 2G by the end of 2021.
The anticipated cellular carriers 2G/3G sunset dates:
In the U.S., large carriers are already in the process of shutting down 2G service:
AT&T stopped servicing 2G networks in 2016
T-Mobile 2G network sunset as of Q1/Q2 2021
Verizon Wireless will also phase out its 2G network at the end of 2019
Sprint will shut down their 2G in December 2021
In Europe, 2G will have a longer lifeline. Vodafone intends to support 2G service until at least 2025.
Outlook for 3G Sunsetting
Major North American carriers plan to phase out 3G by the end of 2022.
Verizon - no guarantee of 3G beyond 12/31/2019
AT&T plans to shut down its 3G network on 12/31/2021. AT&T has committed to making its LTE network available until at least 2027.
T-Mobile is expected to sunset its 3G as of Q1/Q2 2021.
Sprint 3G networks will be shut down in December of 2022, and 3G devices can no longer be activated.
source: Anticipated Sunset Cellular Carriers
With 4G achieving mainstream status and 5G just about to take off, a list of shutdowns that have been announced or have already taken place can be viewed here.
In summary...
East Asia is leading the way regarding switching-off 2G networks.
In some European countries, it could be the case where 2G may even outlive 3G
source: A Complete Overview of 2G & 3G Sunsets
There is an apparent deadline in some countries. An upgrade to 4G and 5G to ensure devices stay connected when 2G and 3G is switched off in regions is vital.
New Alternatives and Planning
There are alternatives to the 2G and 3G networks.
Leverage 4G and eventually 5G for high-speed applications in mission-critical industries that require high bandwidth.
"5G is the latest in a long line of wireless mobile standards, the most recent widely deployed version of which is 4G-LTE (Long Term Evolution), which can reach 100 Mbit/s downloads and 50 Mbit/s uploads. The 5G standard, which is just starting to be deployed with a worldwide commercial launch expected to be 2020/21 in volume, can deliver download speeds of up to a gigabit, with lower latency, better energy efficiency, a larger wireless traffic capacity, and much more." Read more 11 Industrial IoT Experts Weigh In on the Opportunity to Transform the Industry
5G is the mobile network developed to answer the specific needs of connecting things. Previously, connected units have been communicating on infrastructure designed for consumer needs. 5G now enhances 4G in three main ways; enhanced mobile broadband, critical communications and mobile IoT.
Martin Whitlock, CTO and Jelte Jansons, Product Manager Managed Connectivity from Telenor Connexion, discuss 5G Global Outlook...
[source] Telenor Connexion, 5G Global Outlook - What are the real implications for enterprises via YouTube
2. Use of LPWAN networks that require low bandwidth.
Options for this kind of technology provide long battery life and reliable long-range connectivity for asset trackers. Several technologies include narrowband IoT (NB-IoT), LTE-M, Sigfox, and LoRa [source].
Whichever the need, planning should be underway. Steps should be initiated to take control of the migration to ensure alternatives are suitable for your needs.
Step 1 - Understand your connectivity needs.
Step 2 - Acknowledge the possible challenges that you may face.
Step 3 - Seek out early solutions to avoid disruption of service.
Conclusion
Manufacturers are encouraged to seek new ways to remain competitive while meeting increased customer expectations and dealing with the global supply chain's complex nature. IoT technology is transforming traditional manufacturing supply chains into dynamic, interconnected data systems.
Sensors and intelligent devices are working globally to create dynamic production systems and making them more efficient. Electronics manufacturing is fast-paced and continually evolving.
Flexible solution providers that keep pace with rapid change will continue to experience success for their customers.
If you need help with your IoT roadmap, TT Electronics designs, enables, and manufactures connectivity solutions for industrial applications, including automation, robotics, security, asset tracking and smart home technologies.
Featured image: Image by Gerd Altmann from Pixabay