Airlines within the aircraft industry have recognised the importance of Human-Machine Interface (HMI) since the inception of the first lie-flat beds in the late 1990s: from passenger control units (PCUs), cabin signage and lighting solutions, mood lighting, seat identification, and suite information panels.
The HMIs in aircraft interiors must be integrated into the overall design concept upfront to reduce delays and redesign costs later. The upfront design and aesthetic quality of these products is a crucial component of the design process and critical for the Airline brand.
As a trusted partner in the aircraft interiors sector and responsive design and manufacturing partner, we deliver design-led Human Machine Interface Solutions for aircraft interiors. This article discusses innovations in cabins/seating, improving the overall passenger experience, updated lighting technologies, emerging connectivity, and IoT in aircraft interiors.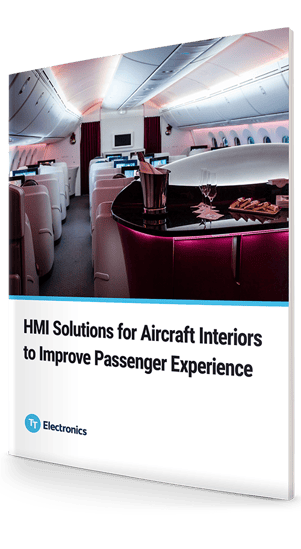 According to the International Civil Aviation Organisation (ICAO),
From a long-term historical perspective, air transport has doubled in size every fifteen years and has experienced greater growth than most other industries.
With that said, the industry is recovering from the standstill in 2020, and air travel is resuming. Airlines are faced with the need to ensure passenger safety and design passenger experience to rebuild their confidence. To ensure a safe and secure travel experience, airlines are rethinking every step of the inflight experience from cabin interiors and passenger wellbeing.
Aircraft Interiors, says,
Before the pandemic, the aviation sector was already in the midst of a digital transformation, and with a heightened focus on touchless access to onboard services, airlines and suppliers to the industry are responding to the pressure to accelerate these initiatives.
With the aircraft industry reestablishing comes the increased need for designs that can be cleaned and disinfected easily and technology that helps support the mission. The industries and initiatives supported by aviation will grow in tandem, increasing consumer benefits and choices.
The innovations and focus, as should be, lean towards passenger safety and their ultimate onboard experience. Improved customer participation and their interaction on the aircraft can be enhanced with better design and decorative aircraft lighting capabilities.
Revolutionising the Passenger Experience on Aircrafts
Airlines are constantly challenged to add services and to provide an enhanced passenger experience. A key way to improve the experience is through seat controls, signage, and ambience.
Interactive interfaces can be provided through a combination of electronic controls and displays into single modules, therefore saving space and designing in passenger control units (PCUs) that use secret-until-lit panel designs.
The overall experience on an aircraft is continuously evolving. As it grows, we see increasing opportunities for "smart" aircraft's as passengers demand more connected and digital experiences during travel. This has led to updated technologies and enhancements.
Passenger Control Units
Passenger control units are designed to the customer's requirement using proven interface solutions, including traditional membrane keypads,
PCAP and touchscreen panels, capacitive switching, and backlighting technology - all lightweight and space-saving, making them ideal for control panel applications on aircraft.
LED Signage
From simple white-only LED lighting to advanced colour shifting technology, LED signage enhances the passenger experience and provides energy-efficient solutions for the aircraft.
High-quality signage using low-profile thin-film backlighting technology delivers clear information to passengers and crew.
LED indicators or information signs inform passengers and flight attendants to return to their seats, fasten their seat belts, or advise 'lavatory occupied', for example.
Mood Lighting
Designed to create an enhanced passenger ambience and in-flight experience, LED-based mood lighting is a fundamental design element that can be personalised through colour, intensity, zoning, and transitions.
Lightweight and highly flexible mood lighting solutions incorporate single colour and RGB mood lighting for aircraft cabins and communications with
the ECU controlled with a variety of interfaces, including CAN Bus and 485.
HMI and Lighting Technologies
As mentioned, the latest HMI technologies include:
Capacitive switch technology

Backlit capacitive switch controls

Thin-film backlighting

Traditional membrane products
The solutions are driven by light-guide technology, which supports the requirement for integration with various surfaces, including curved, while high-brightness LEDs provide compact and efficient illumination, helping to reduce
overall panel size.
Low profile backlighting technology makes it easier to provide panels that will smoothly integrate into an aircraft design. For reference, for passengers, this could be located at the side or top of an armrest.
Light guide technology provides flexibility and efficiency in the mounting of LED light sources. Light guide technology has advantages from the design (thinness, fits in tight spaces), uniformly lit appearance, to cost savings in energy consumption.
Flexible LED lighting strips by TT Electronics provide a power-efficient, robust and certifiable solution in white or RGB multi-coloured options that bend around a 75mm radius. The perfect blend of form and function for aircraft interior mood lighting and signage solutions.
As a trusted partner in the aircraft interiors sector, our HMI designs and certified products are currently flying with the world's major airlines in all cabins, including business and first-class.
With an ever-increasing focus on ensuring the passenger's experience is as seamless and personalised as possible, passengers now expect instantaneous access to limitless services and experiences.
With that comes connectivity and IoT in the aircraft interior...
Emerging Connectivity and IoT in Aircraft Interiors
HMI makes up some of the most enhancing technology within the IoT bubble.
The majority of IoT applications require specific HMI capabilities. This is because a large number of connected devices factor in human interaction as a component.
Manufacturing efficiency has enjoyed a boost from industrial IoT. For example, advanced analytics offers insight into post-flight time, enabling manufacturers to rapidly take action to correct inefficiencies, information on energy usage, and more.
The Internet of Things is making its way into the aircraft and its cabin.
Possible benefits of the connected cabin ecosystem include a more personalised travel experience, specifically targeted to passengers' individual needs and preferences, says Aircraft Interiors International.
Ingo Wuggetzer - Airbus Vice President Cabin Marketing says,
By harnessing big data through IoT technology in the cabin, the onboard experience will reach the next level. And that next level is a lot more personalised.
IoT will improve customer service, safety, and ease of use.
IoT will give the passengers more choice and more individual personalised services as well as digital-enabled services.
Ingo Wuggetzer shared an example of sensors on the overhead bins on airlines. The IoT would enable the bins in a "smart" way to convey with green or red lights if the containers were full or there was additional room for storage.
IoT-based aviation services are evolving. The digital transformation presently underway in aviation can broadly be broken down into several key areas. Some of these applications are already being employed, while a few others are in the pipeline. ONIO® shares its views on the key areas for IoT implementation:
Air safety

Minimising ground time

Improving in-flight experience

Aircraft manufacturing

Cockpit connectivity

Smart airports
Resource:
Internet of Things and Airlines - A Match Made in Heaven?
Conclusion
The airline industry is responding more than ever to the challenges of our times. In the wake of the pandemic, airlines want passengers to feel confident when flying again, comfortable, and with all the perks of a connected environment.
Airlines are strongly recognising the importance of providing connectivity. The next few years will bring inflight broadband where it isn't and get better where it does exist.
The industry also understands the importance of the aircraft's interior sector. We are a trusted partner in the aircraft interiors sector. Our solutions are driven by light-guide technology.
We can combine touch control using capacitive touch technology with a secret-until-lit indicator panel. The combination of touch with secret-until-lit displays that light-guide illumination offers creates many other opportunities to create novel and attractive user interfaces and make them part of the aircraft's overall styling, which can be incorporated easily into the wider aircraft interior systems.
If you're looking for a partner that offers smart manufacturing technologies, such as our light guides, supports enhanced HMI designs, and meets the demands of the latest onboard experience for passengers, get in touch with our innovative team.