For any manufacturer involved within the healthcare sector, traceability is a critical requirement.
Traceability enables you to see the movement of medical devices and parts across the supply chain. You can trace the history of the transfers and locations of any part or product from the point of manufacture moving forward.
At TT Electronics, we offer global manufacturing solutions for OEMs, enabling product roadmaps and accelerating time to market. To do this, we understand traceability is vital within the supply chain as it provides the ability to recall parts/products, track production and match replacement parts. Traceability has three key benefits; it increases supply chain visibility, improves quality control systems, and reduces risk.
Does your manufacturer provide a clear picture of your medical device/healthcare manufacturing process?
This article discusses manufacturing trends and drivers, tracking and traceability you should expect from your manufacturer, regulatory requirements for medical devices—from design input to successful design output, and medical device categories.
Chapter 1
Manufacturing Trends and Drivers
The global manufacturing industry is steadily moving forward with strategies for continued growth (even with all its hiccups from workforce shortages and supply chain challenges during the pandemic). In doing so, the industry continues to look at quality control to reduce cost, supply chain management, and recall control.
However, any challenges have brought teams together, processes, equipment, and parts to achieve the highest level of manufacturing excellence.
Traditional engineering methods did not focus on aligning a product's design team and its production and supply chain teams. Concentrating on the Design for Excellence process brings people, talents, and resources together to meet design challenges and customer demands.
The benefits and goals become team-based with more collaboration, supplier involvement, and project management, reducing design iterations and ultimately reducing time to market.
As companies innovate, it's imperative to get to market quickly with a new product or device. By taking ownership of the manufacturing phases of the new product introduction process, we ensure our customers deliver products to market faster and with the confidence the new product has been designed for high-quality production.
Advanced manufacturing and automation are critical to speed to market.
"To keep businesses functioning, companies are increasingly turning to automation to manage supply chains and production processes. Industry experts believe that automated machines, AI, industrial robots, and other technologies will take jobs which require lesser human skills." [source]
Industrial automation is a driving force in the manufacturing and engineering areas. Automation increases productivity, quality, and innovation.
According to Frank Lamb, in his book, Industrial Automation: Hands-On...
"Automation is the use of logical programming command and mechanised equipment to replace human beings' decision-making and manual command-response activities. Historically, mechanisation—such as the use of a timing mechanism to trip a lever—aided humans in performing the physical requirements of a task. Automation, however, takes mechanisation a step further, greatly reducing the need for human sensory and mental requirements while simultaneously optimising productivity."
Automation increases efficiency, consistency of output, and quicker lead times. Adoption of IoT and advancement in machine-to-machine (M2M) communication technology will positively impact the industrial automation market.
Chapter 2
Traceability in Global Manufacturing Solutions
In simple terms, manufacturing traceability means knowing which product or supplier batches and serial numbers were used in the finished product.
According to ISO 8402,
Traceability is "the ability to trace the history, application or location of an entity by means of recorded identifications."
Basics of Traceability
Use technologies such as direct part marking for discrete manufacturers, where parts and components receive a permanent mark either as they enter assembly or by suppliers.
Bar codes
Radio-frequency identification (RFID)
According to Barcoding Incorporated,
"In order for traceability to be effective, companies must shift from error-prone manual processes to automated ones – capturing, storing, and managing information automatically."
Traceability gathers the information needed by the manufacturers, suppliers, and distributors. A traceability framework can detail all the why's, where's, and when's of a manufactured product.
Your manufacturing partner should provide a clear picture of the manufacturing process.
The terms tracking and traceability for inventory are often used interchangeably in warehousing and distribution. And while similar, they are both critical for inventory control, they do have distinct meanings.
Inventory tracking is product-specific record keeping.
Inventory traceability is operator-performance specific. Traceability is essential for your operational metrics such as throughput (rate of production or speed within a specified period), uptime (a measure of your system's reliability), and more.
External and Internal Traceability Within the Supply Chain
There are two ways traceability should be practised within your supply chain, external and internal.
You can look at external traceability as the components shared between all individuals/companies in the supply chain. Internal traceability is the processes maintained within a specific company. The method identifies materials from inputs to the finished product.
As manufacturing has evolved with the increased complexity, speed, and automation, the need to control and have visibility into the process has increased.
Let's take it a step further and look at the ISO 13485 standard—what is it and who needs certification, and why...
Chapter 3
Meet Customer and Regulatory U.S./FDA Requirements for Medical Devices
ISO (the International Organization for Standardization) is a worldwide federation of national standards bodies. The ISO 13485 standard specifies requirements for a quality management system (QMS) that manufacturers can use in the life cycle of a medical device.
The ISO standard requires manufacturers to document procedures for traceability. In essence, everything must be tracked back to its source. Your contract manufacturer should be certified in the standard.
The complete lifecycle can include design and development, production, distribution, servicing, and final decommissioning and disposal of medical devices. Design controls are set procedures that are built into the medical device design and development (D&D). The design controls ensure the finished product is well suited for its intended use.
When preparing your medical device's quality management system for U.S. Food and Drug Administration (FDA) approval, the design controls demonstrate your device meets the intended user's needs. More importantly, the FDA enforces precise product identification, so all parties involved have the traceability needed to satisfy regulatory requirements. TT Electronics understands the crucial need for a traceability system and has one to ensure your medical devices are built to the highest standards.
TT Electronics' Cleveland Ohio facility has achieved FDA Registration status for the manufacture of medical devices. This registration provides the FDA with the location of medical device establishments and the devices manufactured at those establishments. Knowing where devices are made increases the nation's ability to prepare for and respond to public emergencies.
In addition to general traceability requirements, ISO 13485 has specific requirements for implantable medical devices.
ISO 13485: Section 7.5.9 Traceability states...
The records required for traceability for implants must include records of components, materials, and conditions for the work environment that is used if these have the potential to cause the medical device to not satisfy its specified safety and performance requirements.
Good engineering design practices start with careful consideration of the medical device requirements upfront to reduce delays, identify any mismatch between the proposed design and requirements, and redesign costs later.
Engineering design practices begin with a solid collaborative development process and the defined roles of your team. Only then can a support process be put to task with key criteria and objectives.
Medical Device Design Best Practices
(And considerations for OEMs when selecting a technology or manufacturing partner—do they ...)
Describe all the design activities involved in the project

Assign appropriate responsibilities to team members

Plan objectives

Identify resources

Identify the intended user

Create design inputs (include interface requirements)

Inspect all components

Classify the medical device
The FDA states...
"Medical devices are assigned to one of the three regulatory classes based on level of control necessary to assure safety and effectiveness of the device."
FDA classifies the devices into one of three regulatory classes:
Class I - the lowest level of risk, the lowest level of regulatory control
Class II - slightly higher risk than Class I
Class III - the highest level of risk and the most complex (These devices usually sustain or support life).
The classification is based on the risk associated with the device.
Once you have generated your design outputs, they must coincide and trace to the original input requirements.
Resource:
ISO 13485:2016 Medical devices—Quality management systems—Requirements for regulatory purposes.
Chapter 4
Traceability Requirements in Europe's Medical Device Regulation (EU MDR)
In May 2021, EU MDR authorised new and stricter requirements for the existing medical device directive.
The Medical Device and Diagnostic Industry say...
One area of particular significance is EU MDR's prioritisation of closed-loop quality system traceability. When this is achieved, manufacturers can greatly reduce risks, such as those associated with device hazards that pose an increasing threat to Europe's ageing population.
Requirements for identification and traceability will include:
1. Total lifecycle traceability between all stages of medical device development and post-market activities
2. Ability to understand and communicate the data and relationships within your quality system
3. A new economic operator system—operators now include manufacturers, authorized representatives, importers, and distributors
In addition, the Medicines and Healthcare products Regulatory Agency (MHRA) is responsible for regulating the UK medical devices market. The agency oversees that medical manufacturers comply with regulatory requirements before the devices go to market.
Resource:
Chapter 5
The Importance and Benefits of Traceability in Manufacturing Medical Devices
Traceability between design inputs and outputs can help you identify any possibility the device will fail.
Traceability helps advance quality and efficiency. It gives manufacturers real-time visibility into their operations which improves productivity and continuously improves functions overall.
Scaling up production for a medical device manufacturer can be challenging for a quick turnaround. They need to plan and implement Design for Manufacturing and Assembly, DFA/DMA practices for starters.
A manufacturer can detect flaws and eliminate waste and manufacturing inefficiency within a product design. The methodology allows for new and improved products to be offered in a shorter amount of time.
However, challenges can erupt when engineering teams are faced with not tracking production flow in the process. When the design teams can view the progress in real-time, they can identify inconsistencies and resolve issues. When equipment traceability inquires can be done quickly, production can continually move forward.
Let's look at some more benefits of traceability...
Benefits of Traceability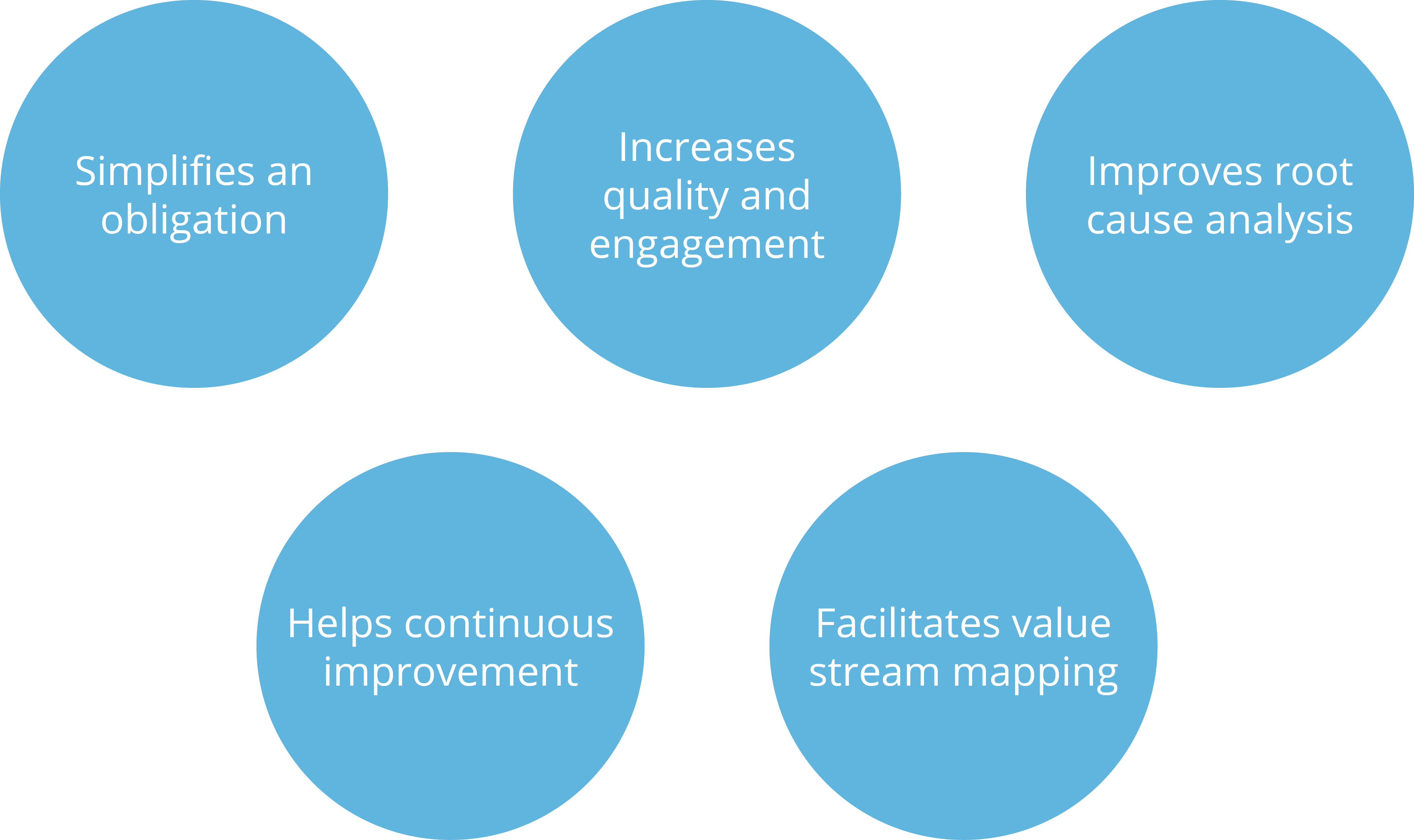 source: Tulip, Traceability in Manufacturing: What is it & How You Can Improve it
5 Benefits of Traceability:
1. Root cause analysis
Identifies "root causes" of problems and has an approach to respond to them. Issues can be solved faster to minimise any long-standing impact.
2. Continuous improvement
Understanding supply chain habits and where bottlenecks might occur creates real-time optimisation.
3. Value Stream Mapping
Value stream mapping is a visual tool to highlight all the areas of waste, from the customer's order to the delivery of the product.
The EMS consulting group defines it as— a practice developed by Toyota, commonly known as Material and Information Flow Mapping. A value stream map shows all the actions required to bring a product or service to a customer.
4. Quality and engagement
Accountability will increase performance and production. Traceability along the production line will ensure quality checkups are conducted and recorded.
5. Obligation fulfilled
There are regulatory requirements for medical device manufacturers that are met through traceability. Traceability identifies and "traces" the history, distribution, location, and application of products, parts, and materials.
As we mentioned implantable medical devices above, let's now take a closer look at the medical device categories...
Chapter 6
Medical Device Categories and Market
As mentioned in Section 3, there are classes of medical devices, each with varying levels of risk and data requirements. From a syringe to a pacemaker, medical devices are regulated and must meet quality, safety, and performance standards.
Depending on your global location, medical devices must adhere to regulatory classes.
How medical devices are classified - U.S.
All medical devices in the U.S. are regulated by the FDA and classified I, II, or III. Class, I devices have fewer regulatory requirements than the other categories. The classification is based on the risk associated with the device.
Class, I devices do not come in contact with a patient's internal organs and are not crucial to sustaining life. Therefore, they are the fastest and easiest to bring to market. Examples of Class I devices are stethoscopes and hearing aids.
Class, II devices have more impact on a patient's overall health (Patient Care). Examples include MRI machines, infusion pumps, powered wheelchairs, and more.
Class III are products that support and sustain life. The devices involve intricate designs—such as pacemakers, ventilators, and heart-valve replacements.
How medical devices are segmented - Europe
Medical device classification in Europe falls under the Medical Devices Directive (MDD) 93/42/EEC, but some high-risk implantable products must follow the Active Implantable Medical Devices Directive (AIMDD) 90/385/EEC.
The devices are segmented into four categories:
Non-invasive

Invasive

Active

Special rules
And further broken down into classes—Class I, Class IIa, Class IIb, Cass III.
source: Emergo, Medical Device Classification in Europe
How medical devices are classified - U.K.
The United Kingdom uses the same risk-based classification system that the countries in the European Union use to categorise medical devices.
In the UK, devices are classified into Classes: I, IIa, IIb, and III. Class I is associated with the lowest risk and III with the highest. The difference between Class IIa and IIb—Class IIa is a medical device with low to medium risk, and Class IIb is a medical device with medium to high risk.
Medical device technology is constantly changing with advancements.
As in...
Life Sciences built on innovation
The market is broad and deep, including—Biotech & Pharma, Medical Devices (equipment and products), Scientific equipment, and Life Science Research and Lab Services.
The study of the life sciences gives insights into disease processes, which allows for developing of innovative medical devices that improve human health.
Let's dive deeper into Wearable technologies...
Wearable Technologies
We are all familiar with medical wearable technology—think wearables that monitor blood pressure, track fitness, sleep patterns, etc.
The wearable itself is a technology that detects or captures information—making the hardware technology function as a medical device.
Wearable sensors impact healthcare and medicine by enabling health monitoring outside the clinic and predicting health events. Each component of the wearable is essential to the end product.
So when is wearable tech a "medical device"?
A wearable or implantable product that alleviates disease, such as a pacemaker, would be considered a medical device. It utilises internal/implantable telemetry, external telemetry, hybrid magnetic assemblies, high voltage charging, and flyback transformers.
Let's progress...
Continued advances in electronics, optoelectronics, sensing components, wireless communication hardware, and battery technology will drive progress in healthcare.
One of the advances is with implantable devices—a medical device placed inside the body during a medical procedure.
These devices would have coils used for communications so that the doctors can adjust the settings on these implants externally.
According to Transparency Market Research's latest report, the global implantable medical devices market was valued at US$ 37,700.8 Mn in 2018 and is anticipated to expand at a CAGR of4.6 % from 2019to 2027.
Watch the video below as we have been working with some of the largest manufacturers of medical devices and help produce highly medical magnetics for implantable and external applications...
TT Electronics - Medical & Life Sciences Manufacturing from TT Electronics on Vimeo.
TT Electronics works with healthcare and life science firms worldwide, providing products, technologies and manufacturing services for medical applications.
Lastly, we want to discuss the digitalisation of the supply chain as it brings it all together—the movement and visibility across each touch-point of the value chain.
Chapter 7
How D
igitalisation C
omes
into Play Moving Forward for the Medical Manufacturing Industry
As a leader in delivering IoT solutions for global deployment, we believe connectivity is the key to sharing data and bringing together systems that optimise efficiency and performance. We understand that traceability, asset tracking, and effective process management are needed to make your business efficient and provide visibility throughout the entire production chain.
Why use digital traceability over traditional methods?
Traceability allows the identification and tracking of products through the supply chain. Integrating IoT traceability into the supply chain helps deliver a more accurate and effective tracking system.
For example, in the medical sector, the use of traceability powered by IoT can record an item's temperature. Vaccines are temperature-sensitive and require special handling once manufactured. There is a need to prevent the vaccines from losing their integrity during transportation—IoT sensors that monitor temperature ensure this principle.
Digitalisation is changing lives. More examples of how it is no longer a thing of the "future"...
1. Another model of traceability is asset management—the method of tracking physical assets such as a medical cart in the hospital. Asset tracking is crucial because it captures vital information on the location and status of the assets.
2. Healthcare security is a top priority for facility managers and security administrators. Advanced technology can ease the burden with RFID tags.
Many modern hospitals have state-of-the-art, electronic infant-security systems that link specialized infant bracelets equipped with radio frequency iden­tification (RFID) tags with similar tags issued to the mother to ensure she has the correct child. [source]
The tags are connected to a wireless system that sounds an alarm if an infant is taken out of a designated area.
3. Wrapping back up to wearable wristbands.
Wearable wristbands can monitor a person's wellbeing who may live alone alerting family members or care providers when a fall occurs.
Remote monitoring uses digital information and communication technologies to access healthcare services and manage your healthcare remotely.
IoT can provide data and information continuously and significantly help global businesses mitigate their risks by guaranteeing valuable intelligence. The technology will transform the way the supply chain captures and communicates information.
Closing Thoughts
Choosing the right partner with FDA approval can guide OEMs through the medical design process.
TT Electronics is committed to industry-leading quality standards to serve our partners better. The ISO 13485:2016 is one of the many standards we strive to maintain as our commitment to you, our capabilities, and the value we offer to our medical industry customers.
The quality and management system in place must be efficient and effective while maintaining the safety and efficacy of medical devices.
If you demand a manufacturer with the traceability system in place for your medical device, get in touch with our team to learn more about a partnership moving forward.
p.s. Every organisation in virtually every industry deals with physical assets that need to be tracked. In the past, paperwork on Excel spreadsheets was the best solution to keep track of these assets as well as valuable information regarding their location and upkeep. Today, those traditional methods are still used by some companies, but newer technology and methods have emerged thanks to AI and automation.
Thanks to technological advancements, asset tracking is becoming easier, less expensive, and more robust...